18 Algarve Beach Wedding Venues
You've made a great choice when decided that Algarve is the right destination for you! Now all you need to do is find the perfect venue. There are so many options, you might need a little help to make choice. Here are our top 18 suggestions of Algarve beach wedding venues on a sandy beach, on cliff top or in hotel overlooking the ocean. Get more info and request planning service.
1.Senhora da Rocha or Lady of the Rock

Lady of the Rock is one of the most popular wedding ceremony locations in central Algarve. It is situated on a rocky peninsula with a tiny white chapel and surrounded by turquoise waters of Atlantic ocean. It has absolutely stunning sea view. The drone images of the bride walking to the aisle look fantastic. Quick tips: if you are getting married in summer, take into account that this place has no shade, at all. Take care of your guests by offering them fans, bottles of water and some sunscreen for your ceremony.
]
Senhora da Rocha wedding, stunning view over the ocean
2. Thai beach club, Vilamoura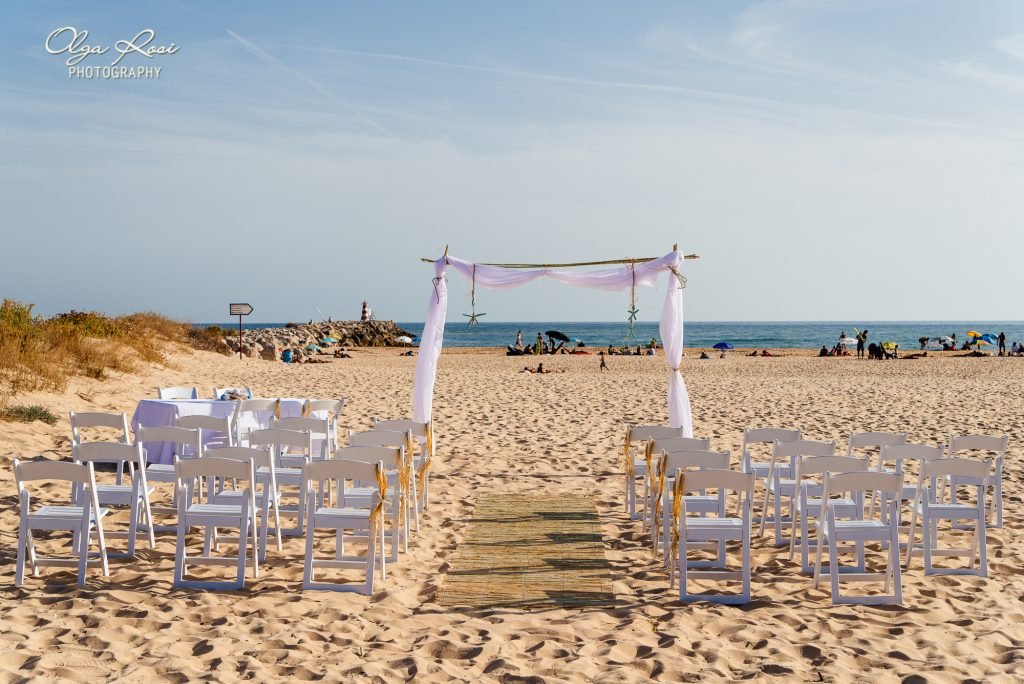 Wedding ceremony on Thai Beach, Praia de Falesia in Vilamoura
Beach weddings in Vilamoura area are very popular. Wide sandy beach always has free spots to accommodate your ceremony. Algarve beach wedding venue.
Again quick tip about no shade in the area and many watchers around, especially in high beach season.
3. Praia Cabanas Velhas, Burgau

Wedding ceremony at Cabanas Velhas Beach, Vila do Bispo, Algarve
 Beautiful remote beach, where you can enjoy some privacy during your ceremony. And astonishing views over the rocky landscape. There is a restaurant right on the beach where the reception can be held. Read more about real wedding on the Cabanas Velhas Beach
4. Restaurante & Bar Duna Beach, Meia Praia, Lagos
Restaurante & Bar Duna Beach belongs to Tivoli Lagos group and is an amazing location for a wedding reception in Lagos area. It's situated right on the beach and has fantastic views of the ocean and beautiful coastline.
You'll be able to walk down to the sea to have a fun time with your guests. The surprising part is a walk from the car park to the beach club as you'll have to cross railway tracks, while the Duna Beach club is hidden by the entrance.
5. Evaristo beach, Gale
Evaristo beach and fish restaurant having the same name Evaristo, is a beautiful Algarve beach wedding location. The restaurant specializes in seafood, the daily selection is limited but fresh. Wedding ceremonies are held on green terrace with an awesome view on the golden rocks and the azure ocean.
6. Tivoli Marina Vilamoura
Wedding ceremony at Tivoli Vilamoura Hotel, Algarve.
Romantic Tivoli Marina Vilamoura wedding can be held on the terrace with a marina view, in the gardens or in a beach restaurant. In the hotel gardens, right in front of the amazing Purobeach Lakeside there is plenty of space that holds up to 200 people.
Read more about a real wedding in Tivoli Marina Vilamoura.
7. Tivoli Carvoeiro
Idyllic wedding venue in Carvoeiro surrounded by the blue sea and lush gardens. The breathtaking ceremony overlooking sea cave and mighty rocks.
8. Sao Rafael Atlantico, Albufeira
A splendid wedding venue with an intimate and relaxed feel overlooking Sao Rafael Beach, only 5 min drive from Albufeira. The ceremony is held in the secret garden terrace with fantastic sea view.
9. VidaMar Resort Hotel, Guia

Vidamar Hotel and Resort is a very popular wedding venue. The ceremony usually takes place underneath a wooden pergola facing the sea, surrounded by gorgeous palm trees, in a dreamy tropical atmosphere.
10. Quinta do Lago
Quinta do Lago Resort is a wonderful location for your Algarve Wedding. This ceremony took place at the lake beach at the luxury Casa Do Lago restaurant.
11. Ponta da Piedade, Lagos
Ponta da Piedade is a very romantic and scenic location for an elopement or a micro wedding. Read more about the sunrise ceremony on the Ponta da Piedade.
12. Crowne Plaza, Vilamoura
At Crowne Plaza Vilamoura wedding venue you can have a garden ceremony, a presidential suit ceremony overlooking the ocean and also the beach ceremony. You can choose yours here by contacting their wedding planner.
Table setting for wedding dinner with an ocean view at Crowne Plaza Vilamoura
Crowne Plaza beach restaurant for a wedding reception and dinner
Crowne Plaza beach restaurant Casa da Praia for a wedding reception and dinner.
Crowne Plaza Vilamoura wedding venue
13. Pine Cliffs Hotel, Praia da Falesia, Albufeira
Pine Cliffs Hotel, a Luxury wedding venue, Algarve
14. Marina Vilamoura deck ceremony

Marina Vilamoura deck wedding
15. Grande Real Santa Eulália Resort & Hotel Spa, Albufeira
Wedding ceremony at Grande Real Santa Eulália Resort & Hotel Spa in Albufeira, Algarve.
Grande Real de Santa Eulalia Hotel or simply GRSE is an outdoor wedding and reception venue, overlooking Santa Eulália Beach and located minutes from Albufeira.
16. Vivenda Miranda, Lagos
Boutique Hotel Vivenda Miranda is a beautiful small hotel perched atop the cliffs, a spectacular coastline of Lagos in the West Algarve. Read more about the real wedding at Vivenda Miranda from our blog.
17. Pestana Alvor Praia
Pestana Hotels are famous for their outstanding quality and excellence. The Pestana Alvor Praia is a 5-star hotel just over the Alvor beach. Stunning ocean views from the green terrace, an astonishing pool overlooking the sea all add up to a great choice for an unforgettable time in Alvor for your Algarve wedding.
18. Praia dos Tres Irmaos – Three Brothers Beach, Alvor
We at Olga Rosi photography are very much familiar with all these venues, shooting at each Algarve beach venue at least one wedding per season. To book your wedding photography get in touch via messenger or send your request here.
algarve wedding photographer, wedding photographer in algarve, algarve honeymoon photoshoot, wedding photography algarve, algarve wedd ing photography, wedding photographers algarve, best wedding photographer algarve, vilamoura wedding photography, algarve photographer, wedding photographer faro, beach couple photoshoot, beach couple photography,
wedding photos, algarve honeymoon, olga photography, fotografo, wedding, lagos wedding photographer, post wedding photoshoot, wedding photography, algarve photographer, algarve venues, wedding villa,
algarve elopement photoshoot, algarve post-wedding photoshoot,
trash the dress algarve ,, Lagos wedding photographer, engagement photography Portugal,
wedding photographer in Portugal, photographer in Portugal, algarve after
wedding shoot, photographer Portugal, wedding photographer Malaga, wedding photographer in Malaga, wedding photographer in Marbella, beach weddings + Algarve, fotoshooting Portugal, family portrait packages, algarve photographer, professional photographers in Seville, wedding photographers Lisbon, photographer Algarve , Olga engagement rings, wedding and event planner Marbella, wedding hotels in Algarve, algarve weddings, wedding hotels in lagos, wedding hotels in albufeira, lisbon wedding planner, vivenda miranda wedding, lagos wedding hotels, family photography packages, vilamoura wedding venues, marbella wedding planner, lagos hotels for weddings, sintra wedding photographer, portugal wedding venues, tivoli marina vilamoura wedding, palacio de estoi wedding, suites alba wedding, photographers in Portugal, weddings quarteira, wedding p algarve portugal photos, wedding packages Marbella, sintra weddingphotographer, portugal wedding photographers, beach wedding Algarve, captured by olga, vivenda miranda lagos, algarve beach wedding venues, photoshoot Lisbon, suites alba portugal wedding, photographer, wedding, casamento, olga wedding photography, algarve wedding hotels, wedding planner Portugal, wedding in Portugal, suites alba resort & spa wedding, photos lagos Portugal, wedding photographers in lagos, portugal photographers, estoi palace wedding, wedding photography Portugal, pine cliffs resort wedding hotographer Seville,